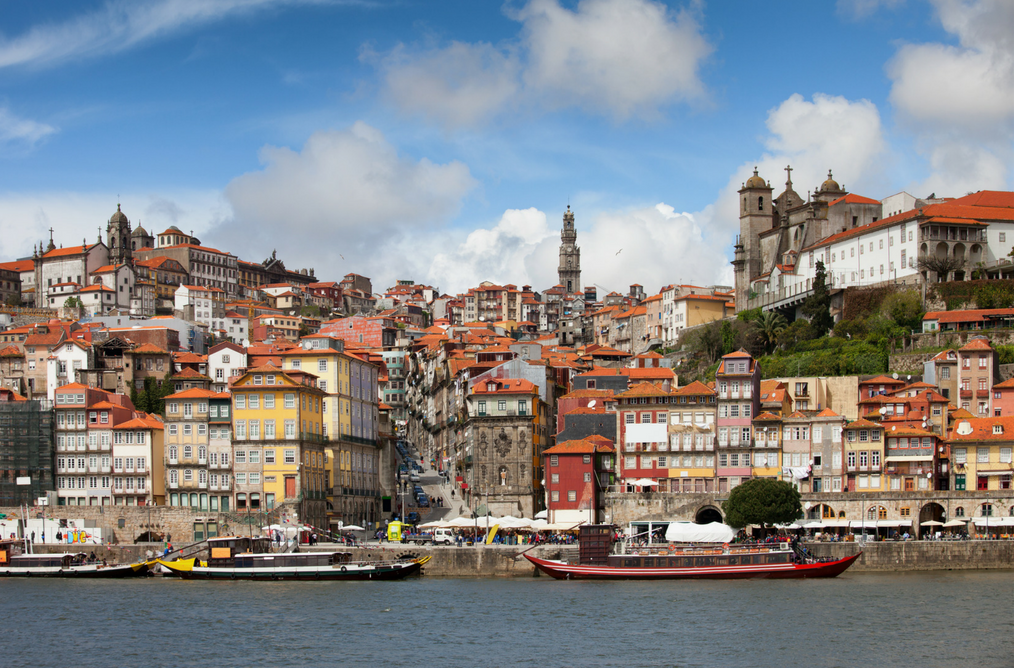 Ever since the Romans built a fort here, at the mouth of the Duoro River, Porto has thrived from commerce. Today it is Portugal`s second largest city and one of the top vacation destinations when visiting the country.
The commercial center of the city and the Baixa (lower) district mainly attract fashionable shoppers. Also in the Baixa is the colorful Bolhao market. Most of the tourist sights, however, are to be found in the older riverside quarters.
Cais da Ribeira
This riverfront square is iconic Porto. It's stunning cityscape of houses decorated with tiled or pastel-painted facades, cobblestone streets and traditional boats floating by on the Douro River, make it a popular spot in Porto.
Find time to grab a seat at one of the many outdoor cafes and let the beauty of this UNESCO World Heritage location sink in. Or if it is too crowded, cross to the other side of the river, grab a drink and sit on the grass area taking in the views. Sunset is a great time to go.
Other sights close to the river include the Palacio da Bolsa, the city`s stock exchange, built in 1842. Its highlight is the Arabian Room decorated in the style of the Alhambra. Close by is the 14th-century Sao Francisco church. Its interior is richly covered in carved and gilded wood. In the Cordoaria district, west of the Se, stands the 18th-century Igreja dos Clerigos. The church tower, at 75 m offers amazing views.

Livraria Lello & Irmao
I may be the only person over the age 20 who have never seen Harry Potter. However, for those of you who are fans, it is said that J.K. Rowling was inspired by this bookstore for her famous book series.
If you love architecture, Harry Potter, or reading, this architectural masterpiece must be on your to visit list while in Porto. The twisting double staircase and the painted-glass ceilings are the centerpiece of this bookstore and where you'll find tourists trying to snag a picture in front of it.
Side note: Be prepared to wait in line to get into the bookstore and wait again to take your picture in front of the famous staircase. You must also check all medium or large size bags. Many didn't figure this out until after waiting in line.
Port Tasting
A trip to Porto, Portugal almost feels pointless without going port tasting. What I learned quickly is that port tasting isn't like your typical wine tasting experience. Because of the higher alcohol content, it is easy to feel drunk after one tasting.
It took me the third tasting before I gave up on my "drunk in love" with port ways and retreated to my hotel.
Learn from my mistakes and pace yourself as there are several wineries offering tastings. Some require a tour of the winery and others have tasting rooms where you can relax and enjoy a flight of port wine without the tour. Either way, no trip is complete without port tasting.
There truly is so much to do and see in the charming city of Porto.  I've only listed a sliver of the amazing places in Porto, as we didn't even discuss the food, bridges or one of the most beautiful train stations in the world. I'll let you discover these on your own or on one of our customized trips to Portugal.
Travel + women of color + self-care + fun – judgement = US!!! 
Interested in being in a community where you can talk freely, among a group of women of color while discovering global hidden gems to visit and travel mistakes to avoid all mixed in with a hint of self-care?  If so, I'd love to invite you to join the Rogue Experiences Travel Insider Facebook Group.
0